"I fall in love with maybe two, maybe three jazz records a year. But every once in a while something comes along and perks me up. I hear the sounds of Ornette Coleman and the band Television. And sometimes in the same song." - Bob Boilen, NPR
Austin jazz-punk group
Bee vs. Moth
share the first track from their forthcoming album today via
PopMatters
. The woozy and weird tune "Problems With Crowds" is available to
hear and share HERE
. (Direct Soundcloud link
HERE
.)
Bee vs. Moth
launch U.S. tour dates following the album's release in September. Please see complete dates below.
Bassist Philip Moody and drummer Sarah Norris started Bee vs. Moth together, and began performing in 2004. The band has since grown into a diverse, rotating cast with ambitious arrangements featured in film and television scores, original videos, and live shows in Austin and throughout the country.
Shelter in Place delivers the power and wit Bee vs. Moth fans expect from a band that likes its jazz served with a New Wave punch. But for this record, their third studio release, the band adds a kaleidoscope of new sounds with strings, saxes, brass, organ, and found percussion front and center. Working in a garage studio for several months with friends from varied corners of Austin's music scene, the band expanded its creative process to produce a focused and intensely creative result.
Shelter in Place will be released September 9th, 2014 on CD and download. The record follows the band's 2007 debut, Soundhorn, and 2010's acclaimed Acronyms.
Bee vs. Moth also continues to produce unique film and recording projects. The 2012 SXSW Film Festival commissioned the band to debut a new silent film score for Ernst Lubitsch's The Oyster Princess (1919). This followed Bee vs. Moth's acclaimed score to Buster Keaton's The Cameraman. The band's songs made their second appearance in a season of PBS' Roadtrip Nation. Currently, Bee vs. Moth is collaborating with Austin band The Invincible Czars to re-imagine the symphonic masterpiece Pictures at an Exhibition for an 11-piece double rock band, complete with horns, strings, guitars, drums, and percussion.
BEE VS MOTH LIVE:
09/19 Austin, TX @ Spider House Ballroom w/ Peter Stopschinski and Foot Patrol
09/26 New Orleans, LA @ The Beatnik
09/27 Atlanta, GA @ Eyedrum
09/28 Chapel Hill, NC @ The Cave
09/29 Raleigh, NC @ Slim's Downtown
09/30 Hamden, CT @ private house concert w/ 11twelve13
10/01 Boston, MA @ TT the Bear's Place w Emperor Norton's Stationary Marching Band
10/02 New York, NY @ Pianos
10/03 Pittsburgh, PA @ VIA Festival - Thunderbird Cafe
10/04 Washington, DC @ Sonic Circuits Festival
10/05 Indianapolis, IN @ The Melody Inn
10/06 Tulsa, OK @ The Soundpony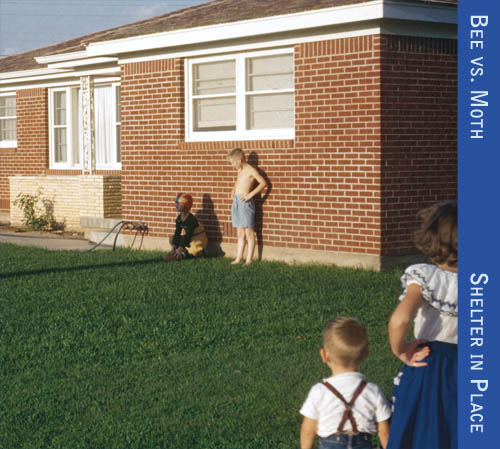 Artist: Bee vs. Moth
Album: Shelter In Place
Label: Aggraveire Music
Release Date: Sept. 9th, 2014
01) It Looked Good In The Showroom
02) Pitch Helmet
03) Machine Room Reverie
04) The Snitch
05) Loop 78
06) Capt. Frank B. Earnest
07) The Buffet of Knowledge
08) Your Dime Ain't Worth a Nickel (in the Jukebox of My Heart)
09) Problems with Crowds
(
STREAM
)
10) Prints & Photographs
11) Dilute Fantastic
On The Web:
HI-RES PHOTOS & PRESS KIT: